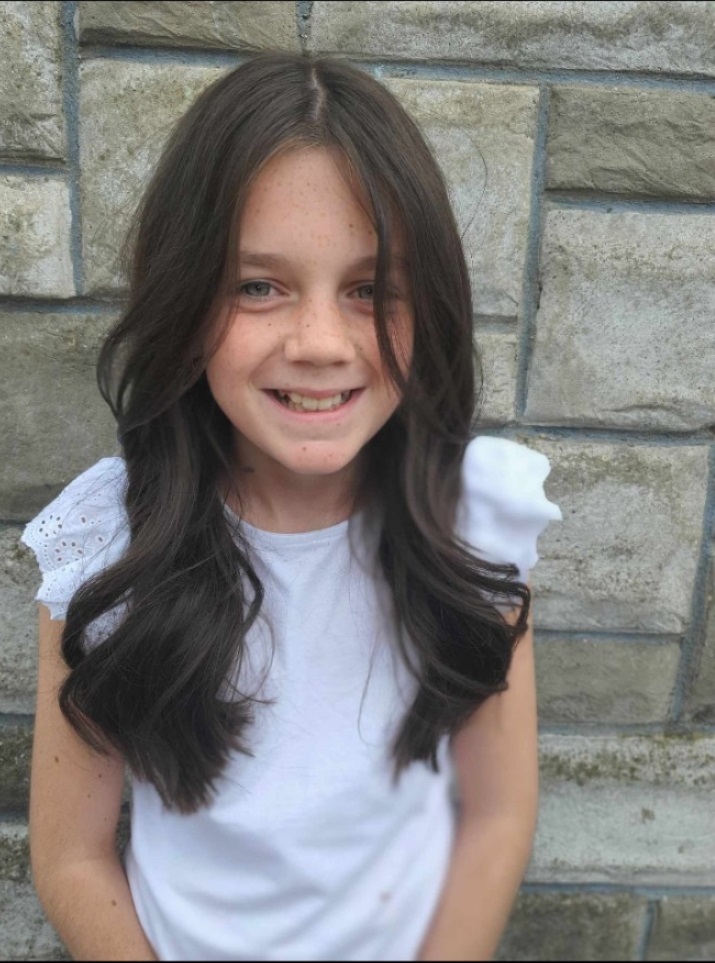 Millie Mai's Story
By her mum Susan
 
I'm happy to share our story because I know when you're in this you're looking for success stories. You want to read about the ones who are further down the road, even 10 years down the road, to have some hope.
Millie is 10 now and she will ring the bell in November. She decided that she wanted to wait until her very last appointment and we are all looking forward to that date so much. We want to celebrate and make it a happy time. I'm looking up weekends away because for so long you can't plan anything or go anywhere. But now we'll get to celebrate and put it all behind us. It feels like closing the door on a chapter.
Millie was diagnosed with T-cell Lymphoblastic Lymphoma when she three and a half. She had been sick all summer. She had night sweats but it was a very hot summer that year so I didn't realise what that meant until later. She complained of a pain in her neck and her nose. We saw nine doctors before we went to hospital and were sent home again after being told it was a virus. I went back the next day and I insisted that she was seen again. I said 'I'm her mother and I know something's not right'. A doctor listened and asked me to point out the things I noticed that were out of character.
Millie had a squeaky voice and her face was puffy so they sent her for a scan. I can remember them pulling the curtains around us and I knew it was bad. They said they suspected that Millie had cancer but they needed to operate to tell what type. She had a tumour in her neck that was affecting her voice. She was very sick and it was 50/50 whether she would make it through the operation because of where the tumours were located, but she did.
Millie had treatment for three and a half years. She was sick going onto St. John's Ward but it was so hard to see how sick she got and the impact of the chemo. She had 14 different types of chemo and she was enrolled in a clinical trial too.
When your child is diagnosed with any type of cancer you, as a parent, become almost trained in that particular cancer. You spend many long, sleepless nights researching their cancer and outcomes and you get training on the ward on how to administer home chemotherapy and take bloods and dressings. It's not a life you choose but you have no choice, it's my job to protect her at all costs.
She missed a huge chunk of school but she has a great circle of friends. I worried about her making friends because she spent so much time on the ward and when we were at home we were isolated. She's fallen behind in her learning but in other ways she's way ahead of her years. She spent a huge chunk of her life on the ward and she's feisty. She fought long and hard to be here and she makes her presence known! Kids can be cruel but she's able to tutor kids about it, and even teachers. It's made her stronger but it's not fair that any child has to go through that.
She remembers the hard parts but she remembers the good parts too and the families and friends she met on the ward along the way. The fact that not all of them make it is very difficult.
Millie is very aware of her diagnosis and she worries that it will come back. If she's ever sick she asks if it's coming back. The worry never leaves you but each year you feel a step closer to leaving it behind.
My older son is now 19 and, as a single parent, I had to give him to my Mam when Millie was diagnosed. It's like sacrificing one child to save the other and he was thrown from pillar to post when we had to go to the hospital in the middle of the night again with a temperature.
Millie loves her Beads of Courage and her brother got them too. It's so good to keep track of what she's been through and to document the journey and it means so much to include the siblings, especially when they often can't come onto the ward.
My key message is about catching it early. Millie was stage 3 when she was diagnosed but we should be finding it at stage one or two. I'd ask doctors and nurses to listen to the parents – we see things that are out of character so listen to us. It might be uncomfortable for people to read about the signs and symptoms of childhood cancer but we need to have it on the walls of GPs surgeries, we need to talk to schools and we need to catch it earlier.
The further you get away from this experience, it becomes like a story and a memory. We never thought we'd get to the 5-year mark but we're almost there and we're looking forward to celebrating. I couldn't have got through the last five years without the support of my family, in particular my sister Linda. Millie's doctor Andrea Malone, Angus and the team in Crumlin saved my daughter's life and I will spend forever being thankful for them.