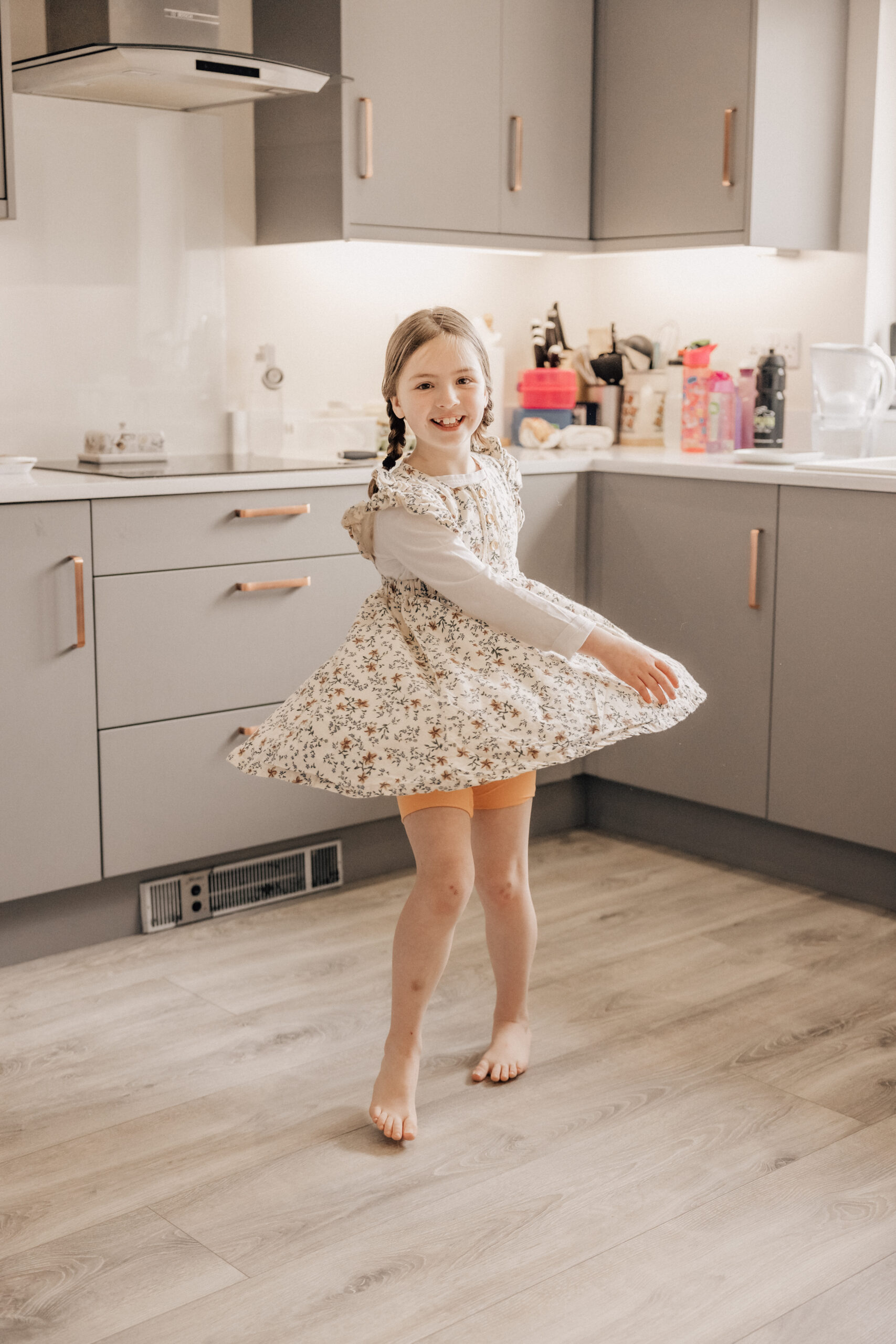 By her Mum Eimear Hardiman 
Clodagh was born in Sunshine Hospital, Melbourne, Australia in February 2016, where myself and my Australian husband Cam were living at the time. We all moved back to Ireland five months later in July 2016. A year to the day after our arrival on Irish shores, Clodagh was diagnosed with Acute Lymphoblastic Leukaemia at 17 months old. I was 36 weeks pregnant with baby number two, When you hear these words – your daughter has leukaemia – it was literally gut wrenching.  
She had only displayed symptoms for two weeks and I wasn't too worried during that time. She had a few bruises, minor bleeding that took a long time to stop, which had us in A&E for a few hours, but after the doctors let her home, I didn't think it was anything serious. In retrospect, these little things all made sense after the diagnosis. She got an eye infection and was put on her first set on antibiotics. After a few days there was no change and I brought her back to the GP. He told me to sit tight and see if in a few days she hadn't shown any signs of improvement, then to bring her back in. Clodagh became very lethargic, she was sleeping most of the day and at that stage I got extremely anxious. I rang our wonderful pharmacist and spoke at length about her symptoms and she advised me to get a second opinion. Luckily, there happened to be an appointment available with the GP that afternoon. He wasn't happy with her lack of progress, so we were told to go to Drogheda or Temple Street. We chose Drogheda as it was local, and we thought we'd be home later that evening. Little did we know.  
Hours after being admitted to Drogheda our nearest hospital, and following numerous tests, five medical professionals brought Cameron and I into a small room and told us that Clodagh could have leukaemia. To confirm the diagnosis, we had to go to Crumlin. As I was heavily pregnant, 36 weeks at the time, they had to check the baby first as they were worried that the news might precipitate labour. The baby's heart rate was high, so we had to wait for that to settle before we headed off to Crumlin in an ambulance, yet another source of major concern.  
We arrived at 2.30 in the morning and within an hour we met the wonderful team of medics there. An hour later they returned to inform us that Clodagh had ALL and we would spend the next 10 days in Crumlin. By 8am Friday she had a heart echo and was poked and prodded to within an inch of her life. The registrar explained that the surgery list was full that day, yet he ensured she was added to the list as the last procedure that day due to the severity of her case. Thankfully, she had her Hickman (Freddie) line inserted at 4pm that Friday. 
There were a lot of complications in the first six weeks. Clodagh had a bad anal fissure – a side effect from the treatment. She needed morphine just to have her nappy changed, she was supervised by a pain medication specialist. We stayed in Crumlin for all that time as she was so ill. Luckily, we came through the horrors of the first six weeks and things proceeded with her treatment plan. However, we had no idea that the next nine months would be a constant battle and quite traumatic.  
Clodagh's consultant Dr Andrea Malone was exceptional. She paused Clodagh's treatment so I could give birth to Teaghan at 42 weeks. In an act of synchronicity both girls arrived home to Navan on the same day from their respective hospitals. 
Clodagh is seven and a half now and she doesn't remember very much from that time. Because she was so young, she didn't know that she had cancer and she doesn't realise how sick she was. That's a blessing, but at the time it was difficult because she couldn't communicate or tell us what was hurting or what she'd like to eat or drink. As she was so young the nurses and doctors always listened to us and they'd change the treatment because of how we found her. They gave us that responsibility because we knew her best.  
It was a break for us when we went into hospital as we were the doctor and nurse at home, nothing prepares you for that role, but you step up and learn on the job fairly fast. 
From the beginning I started a blog, and it was like my therapy. It's great to have it now and the photos. It helps me to reflect on how far we've come from living a nightmare of uncertainty and survival. 
We made unbelievable connections during this time. We spent so much time in hospital and with nurses. We were so lucky to have a Clinical Nurse Specialist – Connie Creghan – in Drogheda. We have nothing but praise for Crumlin and for Drogheda, they give such care and I think our health system is amazing when you're chronically ill, despite the constraints put on them. Clodagh will be monitored every year until she's 18, which is very reassuring.  
She's doing so well. She's at school and has great friends. When you spend so much time in hospital, coming home to your own house is like being in a five-star hotel. I enjoy the simple things so much now, like doing homework at the table with the kids and running around the garden. 
We had another baby 11 months ago. Having a child with cancer affects everyone. I missed so much time with Teaghan when she was born, but we had no choice. Having another baby has been very healing for all of us, it's brought us full circle from our first born and all that she endured to a place of contentment. A place where we celebrate the ordinary everyday landmarks of a child's development free from the shadows of an evil disease.