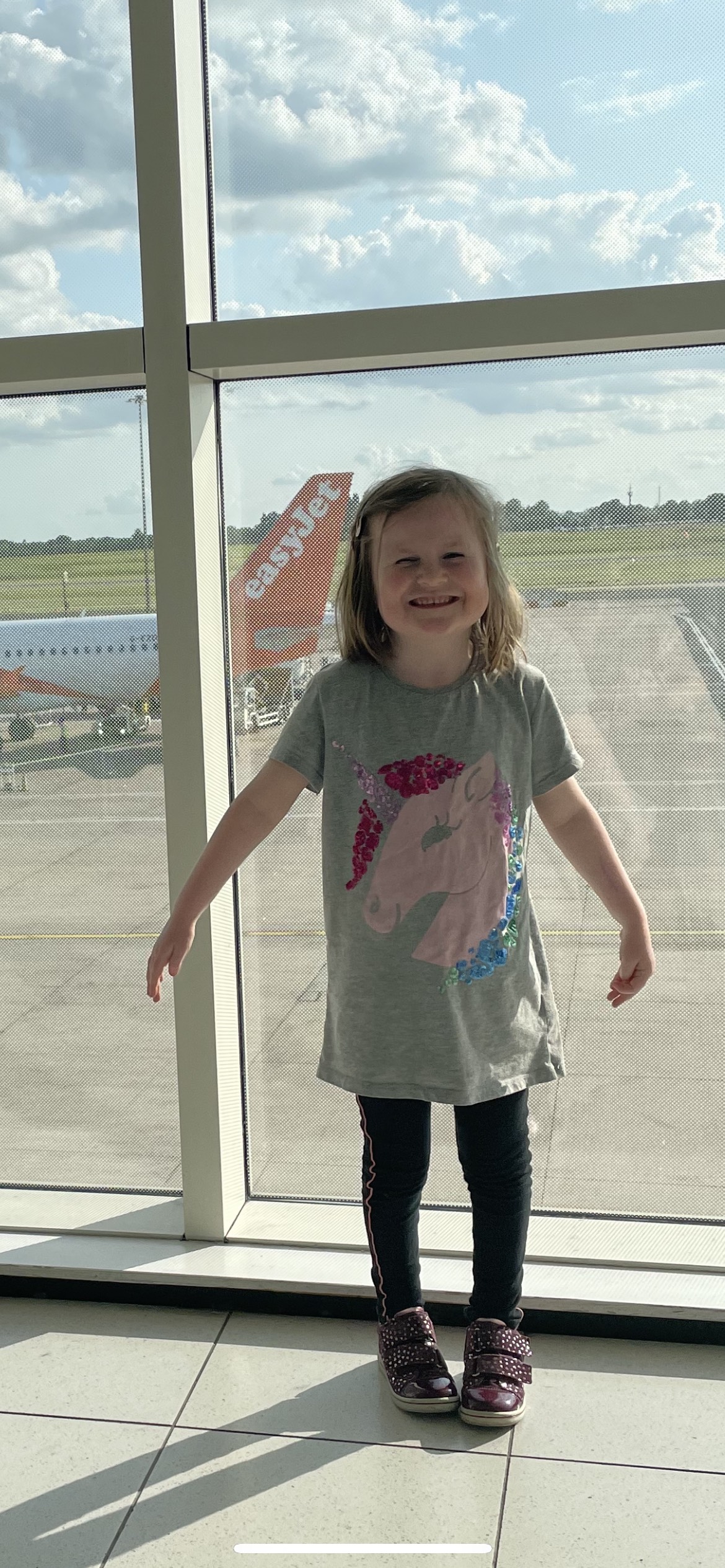 By her Mum Geraldine
My daughter Rachel was in Junior Infants in June 2022 when she had routine vision and hearing screening. The nurse thought that she might need glasses – nothing alarming – and made a referral. We were seen in October in Sligo outpatients.
They did the exam, which involves putting drops in to dilate the pupil, and afterwards a consultant came out and asked me if there was anyone with me. I knew there was something wrong then and I asked them to just tell me what it was. They said they had seen a tumour behind Rachel's eye.
The next day we were in Temple Street for an MRI and it was confirmed that Rachel had retinoblastoma in one eye. It's a very rare cancer and Rachel didn't have any of the typical signs, like swelling in the eye or a glow, so we had no idea. Retinoblastoma is so rare in Ireland that children have to go to Birmingham for treatment. Rachel got IAC chemo there, which goes directly to the eye and is not systemic to her body. So it didn't make her sick and she didn't lose her hair.
She had two IAC chemos, three chemo injections and now has ongoing laser to her eye every month. Everything has to be done in Birmingham and we've had 12 trips since last October. The Gavin Glynn Foundation have been a huge help to us from the start. Friends and family wanted to raise money for us in the early days so instead we started to raise money for Gavin Glynn and to date we have raised €88,000, which will help so many other families.
Rachel is very lucky, she's never been sick from treatment and her eye was saved. She may regain more vision in that eye, we are patching it for part of every day at the moment and she's responding well to that. She'll remain under the care of Birmingham for another 6-12 months and then she'll be seen between Ireland and Birmingham. She's been well so she's able to go to school throughout, except for all of the travel days.
We made a decision that I would do all of the travel to Birmingham with Rachel, which is hard on our other children, but it had to be done. Our eldest is 11 and very mature for her age so we are always honest with her, but Rachel is only six so she knows that she has a 'sick eye' and we try to make the trips as fun as possible.
When I think back now, I wonder did it really happen. It's been a whirlwind and it only hits you when you start to come out of it.
We are very lucky and grateful for the outcome that we got. Every time we went to Birmingham we got good news. Everything went to plan from the day of diagnosis and Rachel was the talk of the hospital – for all the right reasons!
I'd like to let other parents know to be aware of any changes in the eye, like a glow, a squint or swelling. And that routine screenings are so important. Rachel had none of those signs and this wouldn't have been picked up when it was without that routine check up.