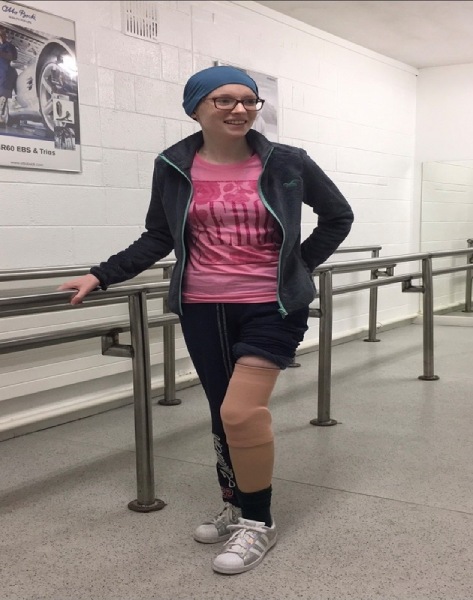 Caoimhe was a bubbly, vivacious child. She loved dancing, music and cooking. She was a real foodie and had an incredible palette. As she became a teenager, she loved gardening and going to Bloom.
When she was in Crumlin, Caoimhe became like a big sister to the other children on the ward. She'd go down to the playroom and engage with them. She raised the kids' spirits. She was loved by them and by their parents.
Caoimhe's cancer had been there for about a year and a half before she was diagnosed, even though we saw so many doctors during that time. Part of why I tell Caoimhe's story is to create more awareness amongst medical professionals about the signs and symptoms of childhood cancer and to encourage parents to trust their gut and keep fighting for their child.
She was eventually diagnosed with Ewing Sarcoma, which is a very rare bone cancer – there are only three cases in Ireland every year.
That was three weeks before her 16th birthday and that's important, because it meant she was treated in Crumlin. If she had been over 16, she would have been treated in an adult hospital. Caoimhe and I both felt really strongly that this needed to change, that an adult hospital is not the right environment for vulnerable teenagers with cancer.
Caoimhe started chemo and celebrated her 16th birthday in hospital. Her treatment was very intense and she was very sick. That had a toll on her mental health, and I believe this would have been much worse if she had been in adult services. I wouldn't have been able to stay with her, for example, and she really need us to be there with her.
When she was 19, she had to transfer from Crumlin to adult services. Even though she was in remission at that stage, we were very nervous. She was leaving a place where she had great security and rapport and she had to build that up again in a new environment.
When she relapsed the second time, it was very difficult. She was the youngest person on her ward by about 20 years. We couldn't be with her and, because she was an adult, there wasn't room for my voice as her advocate, but she was too sick to speak up for herself. She was 19 but her life had been very closeted for the previous three years. A teenage girl with cancer is not the same emotional age as another 19-year-old. She made me promise that we'd create awareness so that no other teenager would have to deal with this.
Towards the end, we moved to hospice care with Our Lady's in Harold's Cross. When she moved to the hospice I could be her mother and not a nurse and that was a huge relief. I thought it would be a sad place, but it wasn't. There was so much love and that helped us to come to terms with the inevitable – that Caoimhe was going to die. They also helped her deal with her mental health and coming to terms with this fact.
We could be with her all of the time and even her belove dog Stella was allowed to stay with her.
They helped her to create and fulfil her bucket list. One of the items was to go to a Spice Girls concert. She went in style with a Garda escort. She always wanted to drive, and she had her first driving lesson on the grounds of the hospice. She felt it was her first bit of independence. She went to Bloom twice and she met Neven Maguire, which was a dream come true for her. He was actually her last visitor.
That was the last thing on her bucket list and she was very sad when it was done and she became very tired. Caoimhe died shortly afterwards on 11th June 2019, in a loving environment with her family by her side.
Caoimhe wanted to live, and I promised her that I would live my life, so every morning I put my feet on the floor and I get through it for Caoimhe and her sister Ailbhe.